Ghana-based Gambian actress Princess Shyngle is in the news again and this time around, its about her and Ghanaian footballer Micheal Essien.
The actress who denied having an affair with Essien who was married to Akosua Puni has admitted publicly kissing footballer Michael Essien even though he was married.
According to Princess Shyngle who's best known for her coca-cola shape and choice of dressing , she kissed the former Chelsea player because they were dating.
Akosua Puni and Michael Essien
The issue of the actress kissing Mr Essien came up when TV host Delay sought clarification on Princess Shyngle's comments that about 99% of men she dated could not satisfy her sexually.
After revealing that she was referring to about seven men she dated, the TV host probed further if that list included the former Chelsea star.
"Okay, where did Michael Essien come from?" she quickly quipped, acting totally surprised.
Clearly armed with info, Delay stressed that "you were publicly kissing him…at Chester's Pub not so long ago."
"I wasn't kissing him," she tried a last-minute defence, a fruitless one it turned out to be as the host persisted, "you were kissing him, he was kissing you, you guys were kissing in public for that matter."
Clearly defeated, Princess Shyngle took a deep breath and admitted, "okay, fine, I dated him," but quickly denied she knew he was married.
According to her, she had no reason to find out if he was married because "I never saw a wedding ring oh his finger and there was obviously no pictures of him and a woman on social media so I assumed that he was a single man."
The Gambian-born actress said she ended the relationship after she found out later that he was married.
Watch the video below for more:
A woman's 
long-winded tirade
 blaming her friends and family for canceling her dream $60,000 wedding has gone viral on social media.
The bizarre story has received a massive response after being shared on Facebook and Reddit by a woman identified as the bride's cousin.
The Facebook post starts with, "It comes with great sadness that I am announcing the cancellation of the [censored] Wedding. I apologize for cancelling only 4 days beforehand."
The bride, identified as Susan, then reveals that she and her fiancé have broken up "due to some recent and irreparable problems" before going on to blame her friends and family for "ruin[ing] my marriage and life."
The woman explained the couple met at 14 and worked together on her family's farm. They then went to community college and worked and saved to "become financially stable."
"We managed to save up nearly $15K for a wedding. Since our love was like a fairy tale, we wanted an extravagant blow out wedding, one where our son could be included," the woman wrote. "We started touring venues and were torn between two. A local psychic told us to go with the more expensive option, and we thought why the hell not?"
The bride went on to say during her foul-mouthed rant that all the couple needed for their grand $60K wedding was "a little push."
"Our dream wedding amounts to 60K – all included with flights to Aruba. All we asked was for a little help from our friends and family to make it happen."
The 17-paragraph outburst said the pair "specifically asked for cash gifts" from the guests.
"How could we have OUR wedding that WE dreamed of without proper funding? We'd sacrificed so much and only asked each guest for around $1,500."
The bride also explained she "made it CLEAR. If you couldn't contribute, you weren't invited to our exclusive wedding. It's a once and a lifetime [sic] party."
Much to the bride's dismay, she and her fiancé quickly discovered that people were not willing to pay $1,500 to attend their special day.
"So we sent out RSVP's and only 8 people replied and sent us the check. We were livid. How was this supposed to happen without a little help from our friends," she wrote.
"Desperately, we resent our invites and asked people to donate what they could. I mean seriously people, what is $1,000? What is $1500? Clearly, not a lot," she continued. "We also set up a go fund me. That only got us $250. At this point we were exhausted, tired."
The bride said her now-ex suggested they get married in Vegas to save on costs, but she "laughed in his face."
"He wanted those cheap, raggedy, filthy, whore like Vegas weddings," she wrote. My ex left the room and didn't apologize for his horrid suggestion," she wrote.
The enraged woman then wrote that she took out her frustrations on her Maid of Honor who had promised her $5,000 before backing out.
"How could someone who offered me thousands of dollars then deny me My promised money and then tell me to shift down my budget???? She KNOWS my dream was a blowout wedding. I just wanted to be a Kardashian for a day and then live my life like normal," she wrote. "I called her a filthy poor excuse of a friend, and hung up."
The bride ended her rage by restating that she wanted her friends to pay for her "dream" wedding.
"How hard would it to [sic] have been to donate friends? Do I matter to you? Just give me money for my wedding. I won't even sugarcoat. I won't even pretend that's not what I wanted. It was for a dream."
Many on Reddit and Facebook asked if the post was real, commenting that it was too strange to be true.
"Is this real?!" one wrote.
"It's too much! It can't be real, can it?" another wrote on Reddit.
However, the bride's cousin posted an update ensuring it was real on the Wedding Shaming forum on Facebook where she posted the original screenshots.
"Yes, this is a living breathing human being," she wrote. "Clearly she has entitlement issues, but I have never known her to be this obnoxious."
"Honestly, over the years she's been nice & overall sweet. No red flags come to mind. She has humble beginnings and has been working on her parents farm since she was young," the cousin wrote.
The bride's cousin called out social media and her family members' obsession with "Kardashian stuff" over the past few years as the cause for the meltdown. The cousin also felt the post may have been written while the bride-to-be was drinking.
"It's especially vulgar and incredibly embarrassing. It was only up for maybe 15 minutes before she took it down," the cousin wrote in the follow-up.
Several have commented on the ridiculous request from the betrothed couple. Some on Reddit even called the woman "delusional."
"Demanding $1500 is insane," one wrote on Reddit.
"What an entitled delusional individual. Pay for your own damn wedding. So glad he walked," another wrote, referring to the groom.
Source: foxnews.com
They are accused of allegedly throwing stones at a vehicle in President Yoweri Museveni's convoy earlier this month.
Bobi Wine, affectionately known as the "ghetto president", appeared on crutches in court.
The army, who had detained him, denied reports that he had been beaten, calling the allegations "rubbish".
Bobi Wine, whose real name is Robert Kyagulanyi, was arrested on 13 August after a campaign rally in the north-western town of Arua.
The winner of that by-election, Bobi Wine ally Kassiano Wadri, also appeared in court on treason charges.
He was also granted bail but was banned from visiting his constituency for three months without the permission of the court.
There was a brief commotion in court when one of the accused, a 51-year-old man, fainted and had to be carried away in the packed courtroom, reports the BBC's Catherine Byaruhanga from Uganda.
What led to the treason charges?
Before being arrested, Bobi Wine tweeted a gruesome picture of his driver, who he said had been shot dead by police thinking it was him.
Bobi Wine's lawyers said he had been tortured and beaten while in custody and could not walk or talk. The claims were rejected by the government, including by Mr Museveni.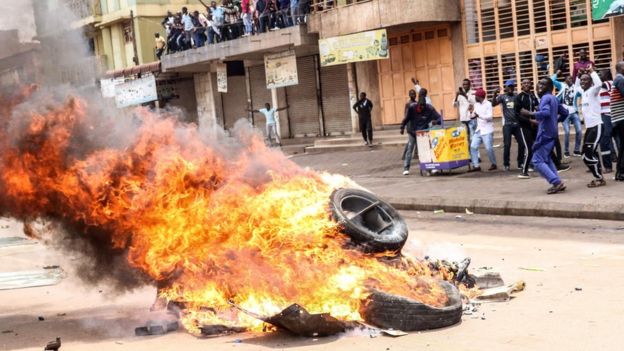 Bobi Wine's supporters protested in Kampala last week 
The 36-year-old musician was initially to be tried in a military court over accusations of unlawful possession of firearms but the charge was dropped. A civilian court later charged him with treason.
Bobi Wine, and the other 33 accused, are expected back in court on 30 August.
Who is Bobi Wine?
The Afrobeats star has been a thorn in the side of Mr Museveni's government. Since his election just over a year ago, he has backed candidates in three by-elections who have beaten those from the ruling National Resistance Movement (NRM), including in Arua.
He was also a leading campaigner against the move to scrap the presidential age limit – set at 75 – which would have locked out the 74-year-old Mr Museveni's bid to run for a sixth term in 2021.
Wine also joined local activists in July to protest against a social media tax introduced ostensibly to boost state revenue and to end what Mr Museveni called "gossip" on WhatsApp, Facebook and Twitter.
Critics, however, said the 200 Uganda shillings ($0.05, £0.04) daily tax was meant to suppress dissenting voices.
The government has since backtracked and said it will review the tax.
Source: BBC
This is to be achieved through the implementation of the "Belt and Road" initiative, which aims to accelerate Africa's economic transition.
The Mombasa-Nairobi, Addis Ababa, Djibouti railway lines and other infrastructure projects have become flagship projects in Africa.
READ: From village icon to global acclaim: Promising young Ghanaian keeps soaring while saving lives
As part of the development of new silk roads, China and African countries have jointly built a number of economic and trade cooperation and development zones.
The African Union Commissioner for Rural Economy and Agriculture, Josefa Leonel Correa Sackoa says African countries could learn from China's achievements in reform, openness and poverty reduction.
Source: Reuters
Some advice is especially bad, even if your intentions are good. Below, you'll find six things that are best left unsaid.
1.  'You just have to put yourself out there.'
Unless your friend has gone into full hibernation mode, they probably have been putting themselves out there. They probably don't tell you everything about their love life, though. You might not be privy to the flirty coffee dates they've been going on with their co-worker, or the growing number of dating apps they've downloaded, deleted and re-downloaded in the last few months.
Trust that they're handling the situation, even if you personally haven't seen much progress, said Isiah McKimmie, a couples therapist and sexologist in Melbourne, Australia.
"Your friend has probably been on terrible dates, been rejected, and had people ghost them ― it can be overwhelming and they can lose their confidence," she said. "Sometimes, people need to take some time to get their energy for dating back and find ways of meeting people that feel right to them."
2. 'You're being too picky. You need to lower your standards.'
Standards exist for a reason, so be respectful of your friends' non-negotiables. If your friend is adamant that they don't want kids or is looking for a partner who's their financial equal, respect those choices. Chipping away at those standards is likely to result in an incompatible match.
"When you tell a friend to lower their standards, you're telling them to give up on essential needs they're looking for in a partner," said Danielle Kepler, a therapist in Chicago. "Giving up on those needs might result in dating someone who they won't ever reach compromise with, especially if they disregard goals and dreams for their future by dating them."
3. 'Don't worry about online dating. Do what you love and you'll meet the right person organically.'
While well-intentioned, this advice is outdated. There's no reason your single friend can't go out and do what they love ― say, enroll in a French cooking class in the hopes of meeting a foodie cutie who can cook a mean coq au vin ― and be on the dating apps all at once.
Dating is all about casting a wide net, said Susan Pease Gadoua, a couples therapist and the co-author of The New I Do, Reshaping Marriage for Skeptics, Realists and Rebels.
"People's time is so limited," she said. "If your friend's on the apps, they're reaching a much larger pool of singles without a lot of effort. Plus, they're weeding out prospects who don't want the same things as them more quickly and easily. It just makes you so much more efficient in your search."
4. 'You need to find your soulmate. Stop settling for just anyone.'
This piece of advice is a little too prescriptive for its own good. You might be totally convinced that soulmates are a thing, but it might be an icky, eye roll-inducing concept to your single friend.
Plus, stressing your friend out about finding "The One" is only going to make their search for a decent partner even more cumbersome, said Tom Murray, a couples therapist in Greensboro, North Carolina.
"Maybe your friend will start swiping on all the apps, to feel like they're 'doing something,' but it's unlikely to be all that rewarding and it might even contribute to depression," he said. "Instead of focusing on finding a soulmate, suggest they focus on looking for personality characteristics they like in people, such as kindness or generosity."
5. 'Maybe you'd have better luck if you put more effort into what you wear.'
Yes, a little effort goes a long way when you're going on a first date or looking to meet people at the bar or an event. That said, if your friend is comfortable and looks relatively put together when they go out, don't suggest they take the trouble to buy a whole new outfit. Let them be, and cool it with the judgment, Kepler said.
"Putting on a façade by dressing different than you usually would dress, or putting in way more effort than you usually would, is kind of like false advertising," she said. "You shouldn't have to drastically change your appearance to attract a partner and putting yourself in that mindset doesn't help your self-esteem while on a date."
6. 'I think you're just choosing the wrong people.'
Well, yeah. If your friend was choosing the right people, they wouldn't be single. This piece of advice comes across as ultra-meddling. If you're worried about the "type" your pal is chronically pursuing, it might be best to gently suggest a therapist. A professional can offer advice in a much more neutral, less judgmental way, McKimmie said.
"Your friend might really be looking for someone different, but for deeper psychological reasons, they keep repeating the same patterns," she said. "Just trying to choose someone different doesn't resolve the issue. If your friend keeps choosing the same kind of person and running into the same problems over and over, hopefully they'll think about talking it through with a therapist."
Bottom line? The best thing you can do for your single friend is to just listen. Given how disappointing (and dick pic-filled) single life can be, they're going to need a good sounding board.
 Source: Huffington Post
A lecture by a Harvard professor calling coconut oil "pure poison" has gone viral on YouTube, nearing 1 million views on Wednesday.
In a talk titled "Coconut oil and other nutritional errors," Karin Michels, who is an adjunct professor of epidemiology at Harvard T.H. Chan School of Public Health, says coconut oil is not healthy, calling it "poison" at least three times in the widely-circulated video.
"I can only warn you urgently about coconut oil," she says. "This is one of the worst foods you can eat."
Michels is also the director of the Institute for Prevention and Tumor Epidemiology at the University of Freiburg in Germany.
While coconut oil has been advertised as a health food of sorts, nutrition experts say there is little evidence to back that claim. Alice Lichtenstein, a Tufts University professor of nutrition science and policy who is vice chair of the federal government's dietary guidelines advisory committee, recently told The New York Times "there's virtually no data to support the hype."
It's not "poison," but American Heart Association data has shown more than 80 percent of the fat in coconut oil is saturated — far beyond butter (63 percent), beef fat (50 percent) and pork lard (39 percent).
Donald Hensrud, medical director of the Mayo Clinic Healthy Living Program, told USA TODAY last year that "there's a disconnect between people's general beliefs and what the data actually show." He recommends instead using oils high in monounsaturated fats (including olive oil and avocado oil) and those high in polyunsaturated fats (such as canola oil).
The AHA, which advises against the use of coconut oil, recommends eating no more than six percent of saturated fat as part of total daily calories for those who need lower cholesterol. The oil has "no known offsetting favorable effects," the AHA said in an advisory last year, and it could actually increase LDL ("bad") cholesterol, a cause of cardiovascular disease.
But, saturated fat is a loaded term. While the AHA warns against it, people who cut saturated fat out of their diet might not necessarily lower their heart disease risk, a 2015 BMJ review suggested. That's because some people fill the void with sugar, white flour and empty calories. Also, some fat is important to help bodies absorb nutrients from other foods.
Source: USAToday
This is the success story of Shadrack Frimpong, the founder and CEO of Cocoa360, an organisation that develops farming communities and facilitates access to education and healthcare through cocoa plantations.
With several awards and recognition from Queen Elizabeth II of England (2018 Queen's Young Leader Award), former UN Secretary-General Kofi Annan, former U.S. President Bill Clinton, the U.S. White House, Ghana's Jubilee House, Ghana Legacy Honours (2017 Future Award) among many others, Frimpong is still achieving global excellence.
Shadrack Frimpong was recently chosen as the recipient of the prestigious Boyer Scholarship which will fund his Masters Degree in Non-Profit Leadership at the University of Pennsylvania and to make him an Honorary member of the First Troop Philadelphia City Cavalry, a unit of the Pennsylvania Army National Guard – the oldest and among the most decorated in the United States.
This honour makes Shadrack the second African recipient in the Fund's 64-year history and the first from West Africa. "I am particularly excited about the scholarship and my goal is to use the skills of discipline and confidence that I will gain during training in the First Troop Philadelphia City Cavalry to equip and position me to become a global leader in healthcare.
"I returned to Penn to pursue a Master's degree in Non-Profit Leadership (NPL) to hone my leadership skills particularly to fine-tune and guide Cocoa360's strategy. My work with Cocoa360 over the past three years has taught me soft skills such as empathy as well as crucial first-hand lessons in leadership. As the organization continues to grow and expand, it became imperative that I re-position myself for more knowledge and experiences to guide our growth in the years ahead," Frimpong told Face2Face Africa.
The University of Pennsylvania (Penn) in the United States is his alma mater and he enrolled on a full scholarship after his high school education at Opoku Ware School in Kumasi, Ghana, where he graduated with the help of a Ghana Cocoa Board scholarship.
As the first person from his village of Tarkwa Breman to attend and graduate from college, Shadrack Frimpong left Penn in 2015 with a degree in Biology and the prestigious $150,000 President's Engagement Prize. He is the first black student and one of five in his graduating class to be awarded the prize.
He went back to Tarkwa Breman and transformed his Tarkwa Breman Community Alliance nonprofit into Cocoa360 which has developed a model school for girls and a community hospital that is self-sustained by proceeds from a community cocoa farm plantation.
"So far, we have enrolled 120 young girls in our tuition-free school. We have 33 staff members (about 95% of whom are local), and directly serve over 30,000 farmers and their families. We have drilled 2 boreholes on our campus, each providing over 4,000 litres of clean water daily.
"In less than a year, we have attended to over 2500 patients at our health facility. Annually, we anticipate that about 242 children will be immunized, over 450 babies will be delivered and we will have over 930 malaria clients in care," he explained.
Cocoa360 has over 30 staff members who are based in Ghana and Frimpong is guiding organizational strategy and leading the research and evaluation activities of the organization.
"It has taken us a lot of mistakes to finally get to where we are today. To be fair – I would say that a high turnover is inevitable for any organization in the startup phase. However, we have eventually been able to navigate this by setting an organizational culture as a team," he says of his team.
He was quick to add the support they gained from the Tarkwa Breman community which is benefitting from the tuition-free education and subsidized medical care by providing labour on the community-run cocoa farm.
"So far, we have enjoyed the most support from the community – they donated 50 acres of land to help us begin work … Proceeds from the farm are then used to support the school and clinic's operations," he added.
Ghana's leadership future is secured with people like Shadrack Frimpong who aims to stay in the United States to pursue further advanced degrees and gain work experiences in the field of healthcare and leadership so as to help develop his community and country.
As described by the late Ghanaian diplomat and former secretary-general of the United Nations Kofi Annan, Shadrack Frimpong is "an embodiment of youth leadership".
Source: Face2faceAfrica.com
The Irish prime minister earlier delivered a strong warning to the Pope to take action against clergy involved in child abuse and keeping it secret.
The Pope is expected to meet abuse survivors later on Saturday.
The papal visit, the first to the Irish Republic for 39 years, coincides with the World Meeting of Families.
It is a global Catholic gathering held every three years.
The Argentine Pope's opening remarks echoed a letter he sent to the world's 1.2bn Roman Catholics this week, in which he condemned the "atrocities" of child abuse and clerical cover-ups.
"I cannot fail to acknowledge the grave scandal caused in Ireland by the abuse of young people by members of the Church charged with responsibility for their protection and education," the Pope told political leaders and dignitaries at Dublin Castle.
"The failure of ecclesiastical authorities – bishops, religious superiors, priests and others – adequately to address these repellent crimes has rightly given rise to outrage, and remains a source of pain and shame for the Catholic community," he said.
"I myself share those sentiments."
The Pope veered off his script when speaking out about abuse, saying he had set out a "greater commitment to eliminating this scourge in the Church, at any cost".
He was speaking after Irish PM Leo Varadkar said the failures of the Church, the state and wider society had created a "bitter and broken heritage for so many, leaving a legacy of pain and suffering".
"Magdalene Laundries, mother-and-baby homes, industrial schools, illegal adoptions and clerical child abuse are stains on our state, our society and also the Catholic Church," he said, referring to a series of scandals that have rocked the Irish Church.
"People kept in dark corners, behind closed doors, cries for help that went unheard… Above all, Holy Father, I ask to you to listen to the victims and survivors."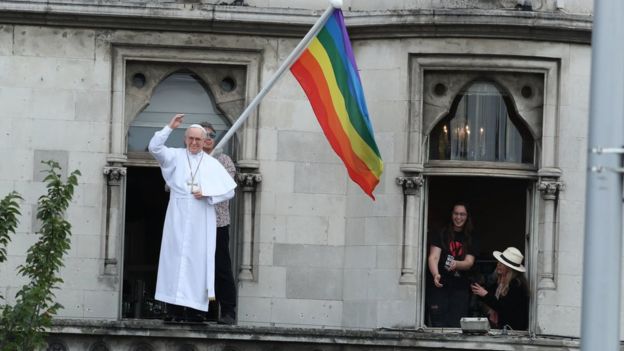 Mr Varadkar said there could be zero tolerance for those who abuse children or who facilitate that abuse and that from words action must flow.
He referred to an investigation in the US state of Pennsylvania that found that more than 1,000 identifiable minors had been abused by 300 priests.
Mr Varadkar said the "heartbreaking stories" of "unspeakable crimes", perpetrated by religious officials and then obscured to protect the institutions, was a story "all too tragically familiar" to people in Ireland.
Colm O'Gorman of Amnesty International Ireland, who was abused by a priest for more than two years as a teenager, said the Pope's comments did not go far enough.
"He could have talked to us all in a way that was blunt, that was clear, that was frank, that was human, that was accessible," he said.
Savia, a group of survivors and victims of institutional abuse, set up a protest outside Dublin Castle, on the route of the popemobile.
They set children's shoes on the pavement, each representing a child who had been abused by priests.
Flowers and vestments
Later, at St Mary's Pro Cathedral in Dublin, he held a silent prayer in front of a candle that commemorates abuse victims, before answering questions from couples of all ages on the subject of marriage.
The Pope's visit will end with a Mass for 500,000 people at Phoenix Park on Sunday.
Having been presented with flowers and vestments by children after his aeroplane Shepherd One touched down at Dublin Airport, Pope Francis was welcomed to the country by President Michael D Higgins at Áras an Uachtaráin (the president's residence).
Pope Francis also visited a Capuchin day centre for the homeless.
The Ireland that he is visiting is a different country to that which greeted Pope John Paul II in 1979.
Since the Polish pope's visit, there have been huge changes in public attitudes to social issues including abortion, contraception, divorce and same-sex marriage.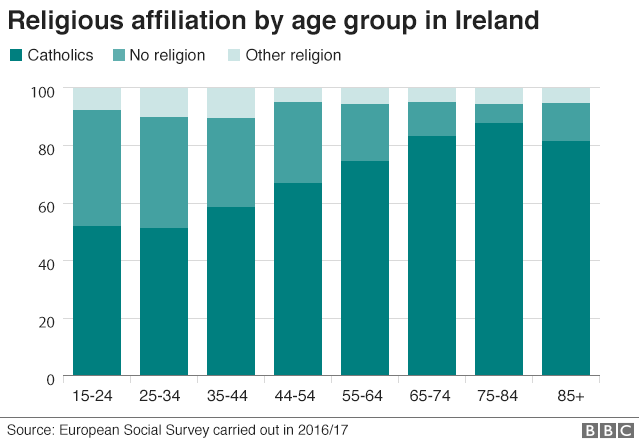 The country voted for constitutional change on gay marriage in 2015 and voted overwhelmingly to overturn its strict abortion law in May.
The Pope heard Mr Varadkar, a gay man, speak out against the traditional Catholic teaching on the family.
He said that the Republic of Ireland had modernised its laws, "understanding that marriages do not always work, that women should make their own decisions and that families come in many forms" – including those headed by a lone parent, same-sex parents or parents who are divorced and remarried.
On Friday, Mr Varadkar said he hoped the Pope's visit would mark the beginning of a new chapter in Ireland's relationship with the Church, which he said had held "too much of a dominant place in our society".
The Vatican said the Pope's meeting with sex-abuse survivors would not be announced in advance, and that it would be up to victims if they wanted to speak afterwards.
On Saturday evening, the Pope will attend the Festival of Families concert in Dublin's Croke Park stadium.
onnell among the performers.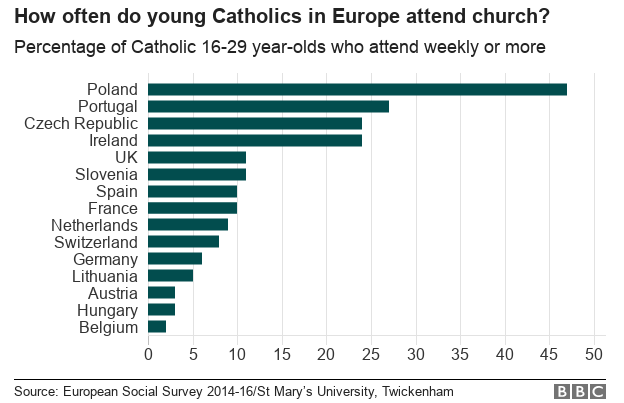 The pontiff will travel to County Mayo on Sunday morning for a visit to Knock Shrine, before returning to Dublin to close the World Meeting of Families at an afternoon Mass in front of an estimated 500,000 people in Phoenix Park.

Papal visit to Ireland: Itinerary highlights
Saturday 25 August
08:15 – Departure by plane from Rome for Dublin
10:30 – Arrival at Dublin Airport for official welcome
10:45 – Transfer to Áras an Uachtaráin (Irish president's residence)
11:15 – Welcome ceremony with President Michael D. Higgins
12:10 – Arrival at Dublin Castle for meeting with authorities, civil society and diplomatic corps
15:30 – Visit to St Mary's Pro Cathedral
16:30 – Private visit to the Capuchin Day Centre, a centre for homeless people
19:45 – Preside at the Festival of Families at Croke Park stadium
Sunday 26 August
08:40 – Departure by plane for Knock
09:45 – Arrival at Knock Shrine for visit to the Apparition Chapel and recitation of the Angelus
11:15 – Departure by plane for Dublin
12:30 – Lunch with the Papal Delegation
15:00 – Closing Papal Mass of the World Meeting of Families in Phoenix Park
18:30 – Farewell ceremony at Dublin Airport
18:45 – Departure for Rome
23:00 – Arrival in Rome
Source: BBC
Founder and Leader of the Heaven's Gate Ministries, Prophet Kumchacha has disclosed that most Men of God and Christians dominate when it comes to divorce cases because they are not romantic.
According to him, most Christians and Men of God starve their partners of s*x and always focus on doing the work of God when they even have to satisfy the s*xual needs of their partners.
"For now, marriages that always hit the rock are that of Pastors and Christian. Instead of a pastor to have time to service his wife, he will say he is going to pray. Instead of having time for his wife he will say he is fasting. Most Pastors have time for their Church members than their spouses and that is bad. Most wives of Pastors are always crying because of this. There are some Pastors who do not sleep with their wives for almost six months and that is really bad," he said in an interview.
He indicated that most Christians also are not active in bed and that is hurting several marriages because they cannot do what their partners ask of them.
The Prophet who was speaking on Accra-based Hitz FM indicated that marriage to prostitutes or people who are not Godly last because they provide the needed pleasure during sexual intercourse.
"If you get married to a prostitute, there is no way your marriage will hit the rocks, there is no way there will be a divorce because prostitutes know how to pamper men and make them happy. The Christian ladies we have around act all holy and are just boring. They are lazy in bed and do not make any contribution to the act if s*x."
Source: mynewsgh.com
EIB's  Nana Aba Anamoah has expressed shock over how the media reported an unofficial post by Sarkodie on announcing her as the Public Relations Officer for SARK NATION.
Several websites and radio stations reported that Sarkodie has appointed Nana Aba Anamoah as the Public Relations Officer for Sarkcess Music few days ago based on an instagram post by the Sarknation king.
But in a post reacting to the stories, she expressed shock at the reports.
She said in a post on Instagram after a follower also expressed similar sentiments that "Citizen Seth brilliantly sums up my surprise. I can forgive bloggers who jumped onto the bandwagon but the radio stations that made this a major topic this morning shocked me the most. Of all the issues to discuss in Ghana!"
She, however, added "But I get it. @sarkodie has a top top brand. When he sneezes, you all catch a cold. #SarkNation #rapgod"